Angel Investing Start to Finish  
by JOE WALLIN and PETE BALTAXE
Sign up now to get your copy upon its release!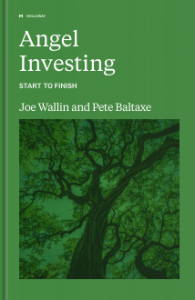 Angel investing can be fun, financially rewarding, and socially impactful. But it can also be a costly endeavor in terms of money, time, and missed opportunities. Through the successes, failures, and collective experience of the authors, you'll learn how to increase your chances of success and your payout when your investment succeeds, and what to do if things go sideways. You'll learn how to evaluate deals like a lead investor, think through term sheets like a lawyer, and keep perspective through losses and triumphs. This book will also be of use to founders raising an angel round, who will be wise to learn how decisions are made on the other side of the table. No matter where you're starting from, this book will give you the context to become a savvier thinker, a better negotiator, and a positive member of the angel investing and startup communities.
This chapter, Legal Due Diligence, is an excerpt from Angel Investing, Start to Finish, a
comprehensive guide for new and experienced angel investors, as well as founders raising
an angel round, by Joe Wallin and Pete Baltaxe. You can also view the Table of Contents.  
Here is what they are saying about the book:
"Angel investing is not easy, nor is it for the faint of heart! Unlike buying shares in a publicly-traded company or real estate, angel investments in startups are illiquid and not easy to value. The deal terms matter a great deal; mistakes in terms can make the difference between a successful investment and one where the company might be successful, but your investment is not. The authors not only explore the legal matters in this book but also give many angel investors a framework to think about both individual deals and a long-term portfolio approach. They provide options for many complex issues that confront angels and help you decide what is important in a deal."
DAN ROSEN (Chair of the Alliance of Angels)
"When both sides approach fundraising with transparency, empathy, and respect, outcomes are better for everyone. Angel Investing, Start to Finish gives you the knowledge and tools to achieve more successful investor-investee relationships. My advice to everyone who is new to investing, fundraising, advising, or a combination of all: take this book and make it your cheat sheet."
LESLIE FEINZAIG (Founder & CEO, Female Founders Alliance)
"Joe and Pete have put together a very comprehensive, modern, relevant work on angel investment. This is the book I wish I'd had 10 years ago. It's all the bits and pieces of angel investment perfectly structured for angel and entrepreneur consumption. The details on terms and term sheets are particularly focused and critical. A must-read for anyone involved in early-stage investment."
BURTON MILLER (cofounder, Startup206, Bliip Networks, and Roost)
"This book is an excellent review of angel investing. It is complete and thorough so that, even after 10 years as an active angel investor, I learned some insights. It is clearly written and the links provide easy references so that it is perfect for a novice angel investor."
DAN DELMAR (Chief Mentor and Board Director of the Harvard Business School Alumni Angels of New York)
"The deeper I get into this book, the more valuable it is. What a great resource!"
DAVID HUETHER (PCH Group)
About Carney Badley Spellman, P.S.
Carney Badley Spellman is about Advocacy, Strategy, Results. Located in Seattle, we are a full-service law firm committed to exceptional client service and professional excellence. Our firm serves individuals, professionals, entrepreneurs, educators, closely-held or family businesses, franchises, Fortune 500 corporations, and insurance companies. They are in the private sector, public sector, and governments. Our clients are forward thinkers, creative, collaborative, and deliver high-quality products and business services to their markets. Their markets extend into almost every industry including, food and beverage, retail, professional services, arts, health care, education, manufacturing, technology, construction, real estate, and more. We advocate for our clients. We strategize with them to meet their goals.