It is with a great deal of sadness Carney Badley Spellman announces the passing of one of its founding partners, Basil L. Badley, after 85 years of a full and fruitful life. Basil Badley is survived by his wife, Mary Margaret Haugen, six children, a nearly equal number of step-children, and literally dozens of grandchildren and great-grandchildren.
Badley grew up as a boy in John Day, Oregon.  After attending the University of Portland and being graduated from Gonzaga University Law School, he entered the practice of law in 1960, as an assistant attorney general assigned to the Washington Office of the Insurance Commissioner.
Badley entered private law practice in 1966.  In 1972, he and four colleagues founded Carney, Stephenson, Siqueland, Badley & Smith—the firm that was later to become Carney Badley Spellman.  He served in various roles at the firm he co-founded over the years, including two stints as the firm's managing shareholder.
In 1972, Badley began Carney Badley Spellman's government affairs practice, when he was retained by two national insurance trade associations to convince the Washington Legislature to create the Washington Insurance Guaranty Association (WIGA) and Washington Life & Disability Insurance Guaranty Association (WLDIGA).  After WIGA and WLDIGA were created, Basil served for many years as the general counsel to the organizations charged with protecting insureds when their insurance company becomes insolvent.  By the time of his retirement from the firm in 2005, Mr. Badley represented a wide array of insurers and insurance trade associations in legislative and regulatory matters.  Basil also had a nearly 30-year career in civil litigation and during his active litigation service held a mayoral appointment as Judge Pro-Tem in the Seattle Municipal Court.
Often forgotten about Basil, is he was president of the Washington State Young Democrats for many years in the 1960s.
Basil was a wonderful man who will be missed by all who knew him.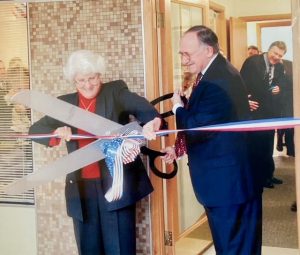 Basil and his wife, Senator Mary Margaret Haugen, cutting the ceremonial ribbon to Carney Badley Spellman's first permanent Olympia office for its government affairs practice.  (January 11, 2002)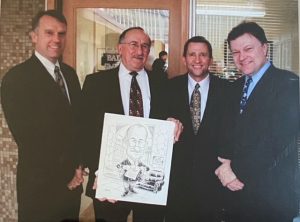 Then-managing partner Tim Parker, Basil, Cliff Webster, and Mel Sorensen, at the Olympia office opening.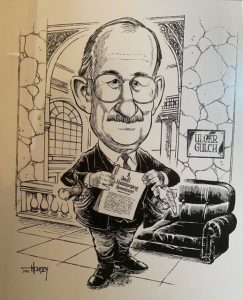 Cartoon drawn by Pulitzer Prize-winning editorial cartoonist David Horsey of "The Seattle Post-Intelligence," for the opening of the Olympia office (2002).
About Carney Badley Spellman, P.S.
Carney Badley Spellman is about Advocacy, Strategy, Results. Located in Seattle, we are a full-service law firm committed to exceptional client service and professional excellence. Our firm serves individuals and businesses of all types and sizes. Also, our attorneys work with closely-held companies to Fortune 500 corporations in the Pacific Northwest and across the United States. Although Carney Badley Spellman's location is in Seattle, Washington, we are proud to be a part of the Washington state community and communities across the nation.